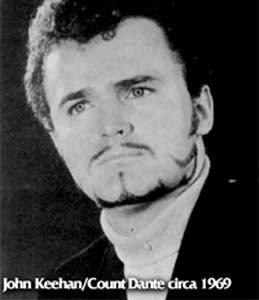 "Look up his history. Musashi is the hero of Japan, yet he murdered innocent men, women and children for money. He was a 'stone killer' (assassin) They despised him when he was alive and canonised him when he was dead. Mark my words, that's what they'll do to me"

Count Dante speaking to Massad Ayoob in 'Black Belt Magazine' March 1976.
Count Dante Bio
incomplete and, as yet, not fully verified by our research. As we discover new information we will amend this bio to correct or confirm accusations and mythologies regarding him.
Sign Up for our Newsletter


Searching for Count Dante | HOME
a film by Floyd Webb



SUPPORT INDEPENDENT FILMMAKERS... STARTING with ME! :-)



The Search for Count Dante needs your help. To date this has been a "no-budget" production. I am not at a stage where I need to devote more time and resources to the project to meet a completion date of December, 2008.
| | |
| --- | --- |
| You can donate any amount you wish by clicking our PayPal button anywhere you see it on the site. | |
Donations of $50.00 will recieve an an autographed DVD of the film when it is completed. (ok, so I got high hopes of my signature being a good sales incentive, work with me on this...this will be a GREAT documentary!!!) You will also recieve mention in the film as a supporter in the film credits. Donations of $10.00 or more will get the super-cool poster for the film.